Welcome to Mojmírovce
Mojmírovce overlies on Nitra Table, which is a part of Podunajska Plain. The village is situated 14 km south of Nitra. It is a typical rustic commune with developed agriculture. It stretches in Urmín fold along Cedron stream, where hummocks of the Nitra hills are on both banks of it.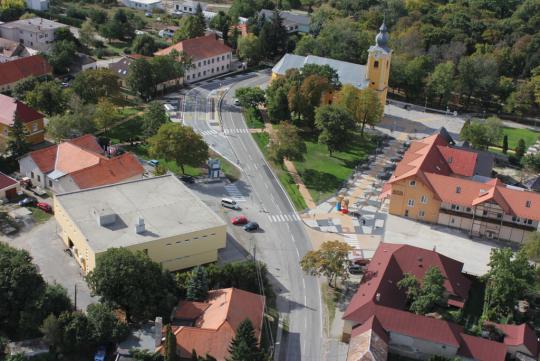 The centre of the village is 140 m above the sea level. The highest place of the village has an absolute altitude of 179 m on Čásarovska hill, the lowest place is the bridge on Kápoň with 126 m above sea level.
The total area of the village is                            19 862 965 m2
Built area                                                               1 559 387 m2
Water surfaces                                                           117 380 m2
Agricultural lands                                                     17 760 292 m2
Population 2 806
male                                                                                   1 426
female                                                                                1 380
Nationality of the Citizens:
Slovak                                                                                2 762
Hungarian                                                                               10
Roma                                                                                       7
Czech                                                                                     23
Other                                                                                       6
Unknown                                                                                  8
Religion of the Citizens:
Roman Catholic                                                                     87,9 %
Protestant                                                                             1,4 %
Greek Catholic                                                                        0,3 %
Other and unknown                                                                2,4 %
Without religion                                                                      8,0 % 

                                                        WIDER RELATIONS

The village is in administrative relation with county city Nitra, where all bodies of state administration can be found. With aspect of distance (14 km) Nitra has a strong gravitation influence. It is a considerable administrative – custody, cultural – historical, educational and manufactures centre.
The village is part of CEDRON micro region, which is an interest association of legal persons. The association connects villages of Cabaj-Čápor, Mojmírovce, Poľný Kesov, Svätoplukovo, Štefanovičová, Veľká Dolina and other subjects as per as the Manor House Mojmírovce Ltd , Civil association Mojmírovské kroky, Agricaltural cooperative Mojmírovce a Tauris Nitria, Ltd Mojmírovce.
                                                       NATURAL CONDITIONS
From geological point of view, the area is a relief of undulating terrain plains with accumulative - erosive relief. The subsurface structure is composed by pre alpine crystal substrate of inner West Carpathians. The geological base is formed of neogenic and quartern sediments.
From the hydro geological point of view, the territory of the village lies in a zone of flowing wells with positive surface. But in general, the whole Urmín fold is very poor of surface waters.
The climatic conditions depend on latitude, longitude, altitude and on exposition of the terrain. The territory of the village belongs to warm climatic area – dry with warm plain climate. The average temperature is + 10,0 °C. Yearly rainfall 530 - 650 mm. The number of summer days with maximum temperature above 25 °C is 75.


Flora - the natural vegetation comprises of ash – elm – oak and alder floodplain forests along streams and oak – hornbeam forests on the rest of the area. From fyto geographical point of view the area belongs to Pannon flora area.
Fauna – the territory of the village belongs to animal region of Inner Carpathian lowlands. We can find here those species, which tolerate the influence of agricultural production, or which are connected to cross timbale and tolerate the closeness of human dwellings.
 
Facilities of the village

Mojmírovce has a complete environmental infrastructure /water pipes, sewage, sewage plant/. ou can find a  complete medical centre and drug store. There is complete educational system – kindergarten, elementary school, art school, secondary school for handicapped adolescents, possibility of requalification studies and external forms of university and bachelor studies. The village has a good trade and restaurant network.
The village manages 4 cemeteries and a house of mourning. There is a lot of green grounds including the historical park. It has a big courthouse / large saloon, clubs for children and youth, fitness, library/, a large sport area /football, tennis, volleyball/ and a hunting range. 

 
Published 26.1.2011
Updated 20.1.2015